Centre-piece for tables: floral arrangements for the reception

How to decorate the reception venue with flowers and place names for tables
Your wedding reception is the right occasion to go a little off beat with floral arrangements and decorative details. Your choices, by following a dedicated theme and style of your wedding, will take shape and form to harmonize the event. The artistic eye of our florist will envisage the right atmosphere to emphasize the best moments of the day, by designing and creating table centre-pieces, place names and floral decorations for the seating, for the Tableau de Mariage and the area dedicated to the cutting of the cake. Amaze your guests with magical and welcoming floral creations. Plants, flowers, lights and candles… Intimate or elegant atmosphere? Get some ideas from our gallery.
Centre-pieces
The centre-piece for a wedding is a special floral arrangement that can also decorate the Tableau Mariage and the tables for the guests. The colours used can match the colours used in the bride's bouquet or you can chose any array of colours, inserting different decorative elements among the flowers. Impress your guests with wonderful place settings!

Place names
Place names let your guests know where they are to sit, but that's not all…They are a design feature in themselves. A pretty little bunch of wild flowers held together with a ribbon or elegant miniature posies? If you are holding your wedding in a romantic garden setting, your choice of flowers will make all the difference.

Tableau marriage
The Tableau Mariage is the first thing that your guests see as they enter the venue, it gives information about the seating plan, and who they will be sitting with for the day. But it is not just a map of the venue, it is an important decorative feature that can be enriched and personalized with flowers and plants. These little details must not be overlooked and will make all the difference in welcoming your guests!

Chairs
Decorating the chairs, inside a banqueting room or outdoors, for example in a villa with gardens, is a design feature that brings the whole setting together. We can use any number of features to decorate the chairs: branches and leafy tendrils, bows, organza ribbons, garlands, floral cascades and delicate crowns of flowers.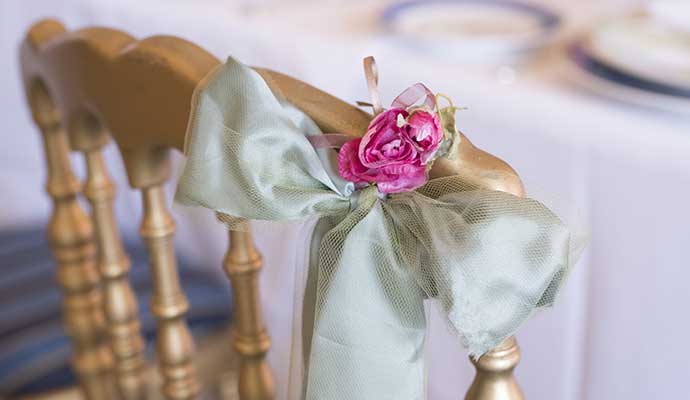 Archways and composition arrangements
Does your location have airy spaces that are perfect for creating a floral theme? Leave it to us! You can opt for arches and floral composition arrangements for the prettiest corners and spaces of the location. Flowers have the power of making any venue fabulous!

Cake decorations
The long awaited moment has arrived! The cutting of the cake. You can choose to have the table, for this great event, decorated with floral arrangements which are perfectly in tune with the cake itself. Alternatively, you can choose a charming corner of the room or garden, creating a scenographic wonder for the all important photographs of your day.

Floral decorations for your wedding venue?