Isabelle Kirchner: flower and décor arranger
An artisan in flowers and a lover of beauty
Isabelle Kirchner was born on 23 January 1980 in Stuttgart, Germany. Isabelle was raised in the countryside and since she was a little girl, she has always had an eye for the beauty of nature and flowers. Her future looks bright, her experience and her natural talent in taking care over even the smallest details, means that she is sure to make her own dreams come true, just as she will for many, many couples on their most important day. Today, she lives in Ravello with her family.

Her motto?
"To make a wedding day an unforgettable experience, rich in sweet memories which will always be a part of your lives!"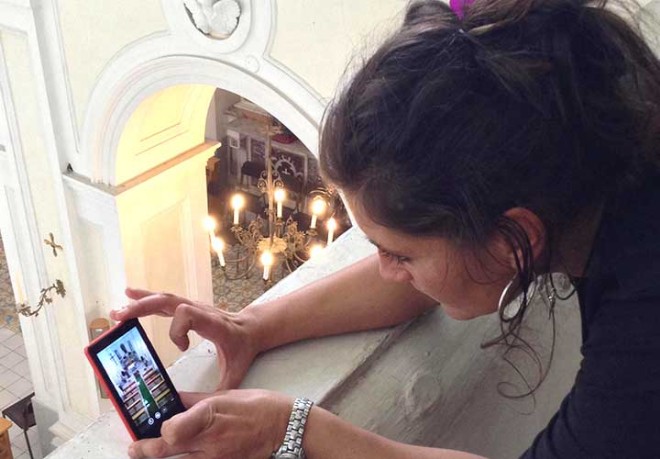 Studies and training
After receiving her diploma in 1998, Isabelle moved to Berlin, the capital city of Germany. Here, she worked for 15 years in the film industry, organizing set and camera preparation, lending her artistic talents to the framing of scenes. During one of her films, she came to the
Amalfi
Coast for the first time. She immediately fell in love with the area, but once filming had been completed she had to return home, with the hope that one day she would return forever!
On returning
to Germany, Isabella changed career.
She studied for two years to become a
qualified florist
and began working in the sector she had always dreamed of:
floral design for weddings
and
events
. She worked for some years in Berlin as
creator of floral decorations
for events.
Love for Italy and flowers
Finally, the chance came to return to her beloved Italy, and her first love, the
Amalfi Coast
. She worked for four years with
Floragarden of Positano
, contributing to the creation of
floral
scenography
e
compositions
. The beauty of flowers (always a passion for her) and the experience gained in the film industry are the very things that will make your
wedding
an unforgettable occasion!
Philosophy and professional style
Being yourself and leaving a part of yourself in everything you do is something very typical of all creative artisans. Working with flowers means loving the splendour, while respecting natural combinations of form and colour. Her philososphy is simple:

"Choose flowers with passion and love for every single detail to create the most beautiful moments!"

A complete and impeccable service for your wedding
A
wedding
is an event that marries well with the world of flowers. The limitless combinations that can be created for
floral compositions
for the day
,
will create a divine scenography in every corner of your chosen location. To guarantee perfect results in keeping with your own wishes, we feel it is important to talk about our
floral creations
and, above all, to talk to you, the stars of the day when everything is there for you.
Find the right style for you
It is so important to find the right floral style for every couple and to make the right choice for you. We listen to you, so we can give you the best advice, taking into account your personal wishes, tastes, budget and the location.

Request a personalised quote
What does a personalised quote mean? It means designing a well-structured offer, respecting your choice of flowers and your budget. We really care about giving you the best.
An expert team at your service
We have an extensive network of connections with professionals in the field of organising weddings on the Amalfi Coast, such as wedding planners, photographers and celebrants. We can help in the organisation of a complete service for the bride and groom.